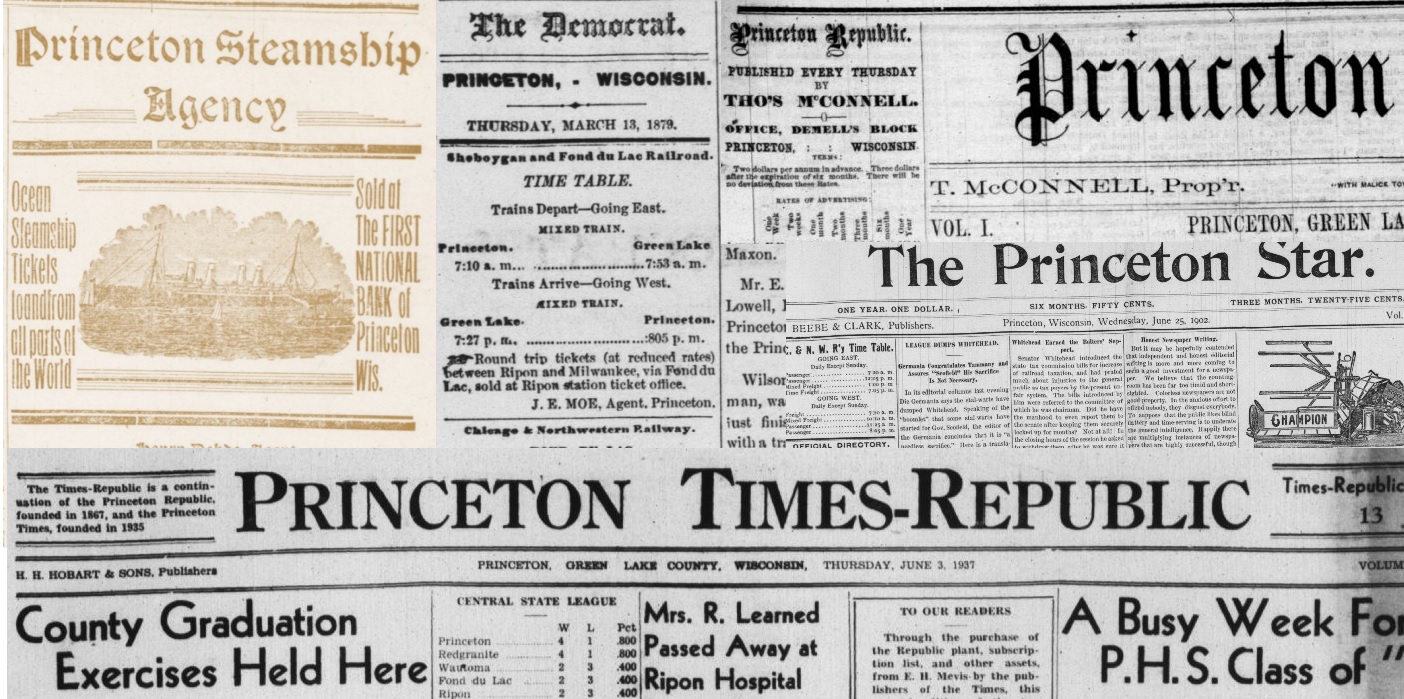 The Princeton Public Library and Princeton Historical Society are very pleased to announce the completion of our historic newspaper digitization project! Our local newspapers dating from 1879 to 1993 are now available online for anyone to look at, putting historical and genealogical data within easy reach of the public. 
Click here to access them: https://archives.winnefox.org 
The newspaper scans are hosted on Winnefox Library System servers, and are also be linked to the Historical Society's future website. 
Princeton had six newspapers over the years. The digitized scans include editions from:
- Green Lake County Democrat 1879-1885
- Princeton Republic 1867-1937
- Princeton Republic-Star 1905-1906
- Princeton Star 1902-1905
- Princeton Times 1935-1937
- Princeton Times-Republic 1937-1993
Users are able to search all of these at once, or only one, or whichever they choose. The newspapers can be easily searched by name, keyword, and date (or date range). A short instructional presentation about how to use the database will be given at the Princeton Public Library on Monday, December 12th at 1pm and again at 6pm. Attendees will be shown the best methods for searching, quirks of searching including OCI errors, and interesting articles and headlines.
To celebrate this achievement, anyone who wishes can request a free photocopy of a historic front page of the Princeton newspaper published on their birthday (or the closest date to it). Please contact the Princeton Public Library at ptplstaff@princetonpublib.org or 920-295-6777 to request your printout.
This project took over a year to complete, and cost about seventeen thousand dollars. 98,563 individual microfilm images had to be scanned, cleaned up, coded, uploaded to a library system server, and made searchable. This process involved the technical efforts of the Princeton Public Library staff, the Crowley Company of Frederick, Maryland, NMT Partners of Onalaska, Wisconsin, DC Johnson of Ripon, Wisconsin, and Keetra Baker of the Winnefox Library System.
The digitization was made possible with contributions from the Princeton Historical Society, the Princeton Public Library, the Caestecker (Green Lake) Library's Tom Gnewuch Memorial Fund, the Wisconsin Humanities Endowment, and the Winnefox Library System.