Keep up-to-date with your library account on your mobile phone using the library's Shoutbomb text messaging service.
Receive text notices about items available to pick up, items due soon, overdue items and fines.
Send a text to request a renewal and receive a text back with the result of your request.
PLEASE NOTE: The library does not charge a fee for this service, but your cell phone plan's regular text-messaging rates apply.
What you need
A text messaging-capable mobile phone
Subscription to text messaging (confirm with your cell phone service plan)
The 13 or 14 digit barcode number from your library card
The PIN for your library account (usually the last 4 digits of your phone number)
How to signup
Text the word signup to 833-568-7242
Reply to the messages from Shoutbomb with your library card number and PIN
WINNEFOX MOBILE APP
Get reminders and order books from your smart phone!
Winnefox Mobile is available from Google Play (Android) or the App Store (iOS). Download it to easily access the library's catalog, place holds, and check on your library account. Have multiple family members? You can add all the accounts together. You'll need your library card barcode and PIN for activation. Your PIN is the last four digits in your phone number.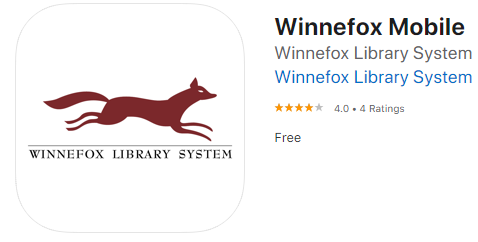 What kinds of messages are available with the Shoutbomb service?
By default, the following notices are turned on; however, texting the related keyword to 920-212-4349 will turn that type of notice off. Texting the keyword again, will turn that type of notice back on.
REMINDER - this is a notice that things will soon be due.
OVERDUE - this is a notice that things are already overdue.
FEES - this is a notice that there are fines or fees owed.
PICKUP - this is a notice that you have holds ready to be picked up.
RENEW - this is a notice that things will soon be due, and you can renew them.
What other keywords can I use with Shoutbomb?
Send all keywords to 833-568-7242.
QUIT:  To stop receiving text messages.
ADDCARD:  To add additional library cards to your text message account.
DROPCARD:  To remove a card.
RESEND:  To have Shoutbomb resend your last received message.
HELP:   To view a list of available commands.
TEST: To test if your phone will work with Shoutbomb.
HL: Get a list of holds that are ready for pick up
RA: Renew all eligible items
RI: Get a list of items that are coming due and that cannot be renewed
RL: Get a list of items you can renew
OA: Renew all overdue materials
OI: Get a list of items that are overdue and cannot be renewed
OL: Get a list of overdue items you can renew